The Truth About Glenorie & Galston
Rural lands are defined as a minimum lot size of 5 acres. Anything smaller is zoned residential and as warned by Council Berman in December 2013 once lot sizes are zoned residential Kellyville-like development will occur with lot sizes as small as 350 sq.m. (The south Dural proposal has much smaller lots than Kellyville).
A small group of landowners with strong political links to Hornsby Council want to remove rural zoning in Dural, Galston, Glenorie & Arcadia by lobbying for the
rezoning of south Dural and
by extending residential zoning by 1 to 2km around each of Galston and Glenorie, which will extend into Dural & Arcadia. One kilometre around Galston would create a residential area 26 times greater than the existing village. This will be similar for Glenorie.
(see
The Truth About south Dural
)
This Will Destroy The Rural Area And Its Amenity As We Know It
Council is supporting this small group of lobbyists:


contrary to the various State Government plans for the future of Greater Sydney and contrary to Council's own Local Environment Plan (LEP)
Council had an agenda before their election to rezone the rural lands but we cannot recall any of their election platforms advocating rezoning
Council states it was approached by a group of residents to rezone rural lands but a freedom of information request lodged with Council failed to find such a request
Council has repeatedly stated that the rezoning will assist Council in meeting its housing quota set by the State government when in reality Council has exceeded it. The State government's housing strategy requires new housing development to be near major transport hubs such as Hornsby Train Station in order to reduce road congestion.
On behalf of this small minority group, Council instigated a Rural Lands Planning Issues Survey purportedly to gauge community opinion on the future of Hornsby's rural lands.
Prior to the release of Council's survey in 2014 all residents received anonymous 'Your Area Your Say' brochures prepared by a "Committee of Concerned Residents" encouraging the reader to complete the survey using answers provided in the brochure supporting rezoning. The brochure's author(s) were familiar with all the survey content prior to Council's release of the survey to the community. Here is a copy of this anonymous brochure, click the images to enlarge.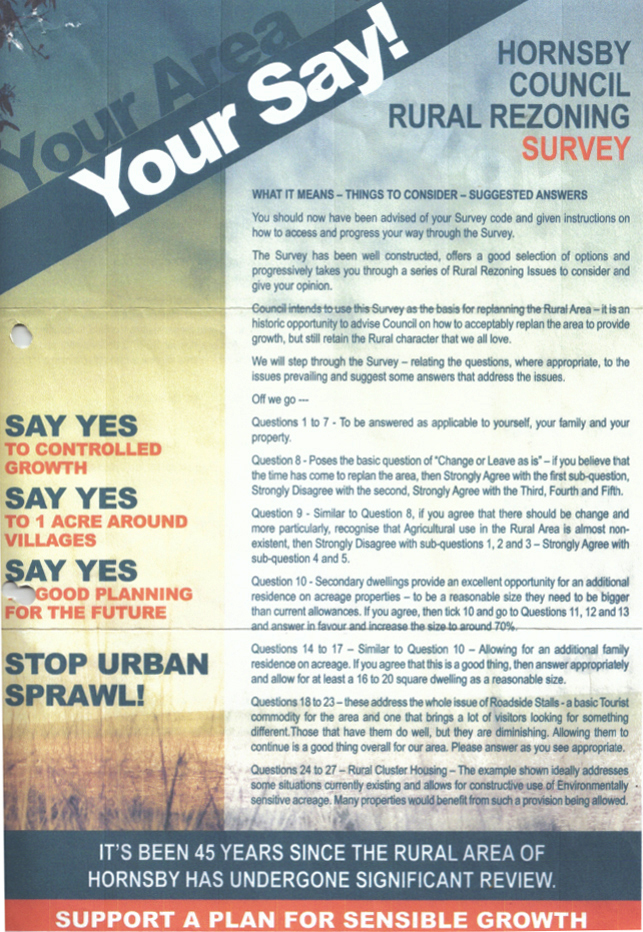 x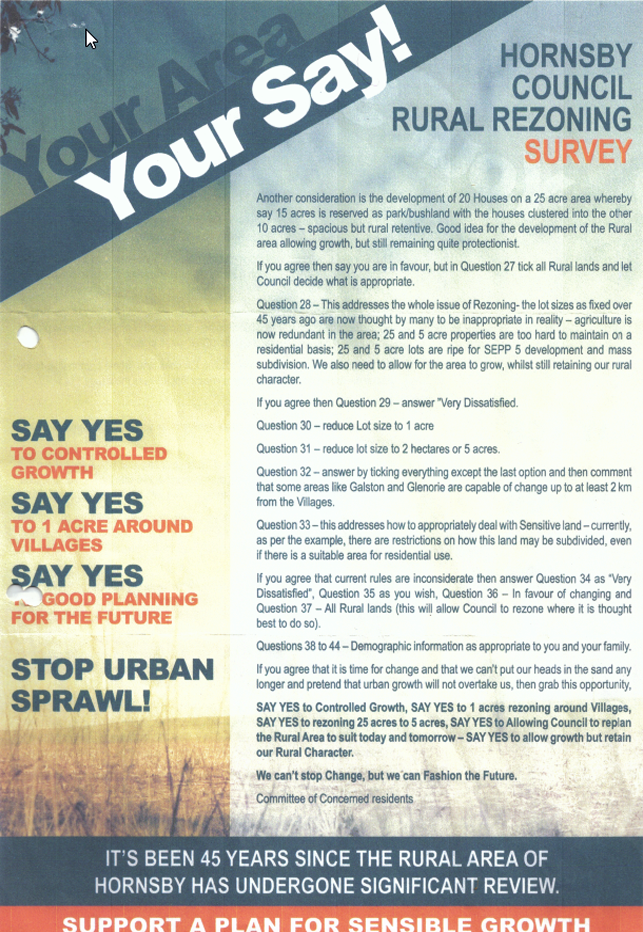 x
Many residents thought the brochures were authorised Council publications and treated them accordingly. It was obvious to other residents that the survey had shortcomings, which would affect its reliability as a community opinion instrument.
Three independent expert consultants in survey construction and analysis volunteered to review Council's 'survey'. They were:
John Coady, Director of John Coady Consulting Pty Ltd,
Robert M Strohfeldt, Director of Strohfeldt Communications Group P/L and
Professor Stephen Holden of Bond University.
They each found the research method and sampling 'deeply flawed' and that the survey should not be used to validate decisions by Hornsby Council on such a significant issue as re-zoning of rural lands. Click
here
to see what the experts are saying.
These reports were sent to Council in 2015 and to date Council has not responded to them and has ignored the experts' findings.
Investigations following the distribution of the anonymous "Your Say" brochures revealed that Mr Tony Jones arranged for their distribution on behalf of the "Committee For Rezoning Galston". This relatively small group changed their name and Tony Jones became Chairman of Hornsby Rural Area Association (HRAA) which aims to rezone our rural lands for subdivision.
It is interesting that no mention was made of the south Dural rezoning proposal in Council's Rural Lands Survey. The survey failed to include any of the subdivision elements proposed for south Dural such as multi-storey apartment buildings and tiny lot sizes. Not only did Council leave these very important details out of their survey, Council approved the south Dural proposal on its own accord completely disregarding its constituents.
Why Is Council So Supportive Of The Rezoning Proposal in Galston, Glenorie, Dural & Arcadia?
Perhaps the speeches made by the Hon Greg Donnelly MP in the NSW Parliament regarding property developer influence in Council decision-making might provide a clue.
On Friday 10th August 2012 the Liberal Party held a fund raising function in south Dural raising $87,436 for the forthcoming Council election.
"It is no secret that various property developers attended this event. It is also no secret that while not present themselves, some other property developers arranged for people to attend the fund raising event on their behalf."

"Steve Russell played a critical role in organising and conducting the fundraising event."
ref:
Donnelly's Property Developers and Political Fundraising Speech
ref:
Donnelly's Liberal Party Fundrasing Speech
ref: Statutory return for the 2012-3 reporting period under the Election Funding, Expenditure and Disclosures Act 1981
Where is Council at Now?
Council has postponed its agenda to rezone rural lands in Galston and Glenorie and its extension into Dural and Arcadia until the State Government's North West Sub Region Plan is released this year. In the interim it has chosen much less contentious aspects of its deeply flawed survey to justify amendments to the Development Control Plan (DCP) to :
Provide for larger secondary buildings on Rural Zoned lots;
attached dual occupancies increase in size to 200m²;
provide larger road stalls to 40m² and
split-zone lots (a mixture of rural and environmental zones) with a component of rural zoned land equal to or greater than 20% of the lot size for that land.
The latter is detrimental to the natural environment in that there will be further urban encroachment into the bush. It will also allow for incre ased subdivision.
We strongly believe Council are promoting the less contentions aspects as a stepping-stone to a wider rezoning of our rural lands.