The Truth about South Dural
Background, Location and Scope
The South Dural Residents and Ratepayers' Group (SDRRG) a developer initiated lobby group, has made numerous applications since 1990 to Hornsby Council (Council) for the rezoning of 590 acres of rural lands and to increase building heights in south Dural for urban purposes.
Rural lands are defined as a minimum lot size of 5 acres. Anything smaller is zoned residential and as warned by Council Berman in December 2013 once lot sizes are zoned residential Kellyville-like development will occur with lot sizes as small as 350 sq.m.
The proposal is for a 2,900 dwelling subdivision encompassing very small residential land lots from 125 sq.m. as well as multi-unit, six-storey apartments.
Every application for this rezoning has been rejected in the past by previous Councils because of:
environmental constraints
loss of agricultural land and proximity to markets
south Dural had not been identified in either the State Government's or Council's housing strategies
has significant stands of Blue Gum High Forest and Sydney Turpentine Ironbark Forest which are critically endangered ecological communities, protected by both State and Commonwealth legislation.
provides a vital wildlife corridor
provides a core habitat for numerous threatened species
to continue to protect the water quality of the catchment
it will have a negative impact on the arterial road network and there is a lack of infrastructure
ref: South Dural Rezoning Proposal (PLN 181/07)
Current Council
Early in November 2013 we became aware that Council had notified south Dural residents of a new proposal by SDRRG to rezone south Dural for urban purposes. Council ignored the vast majority of residents in the Shire and only alerted 580 landowners who were either adjacent to or in south Dural. Council did not publish any public notice in the local papers or on their website keeping the proposal secret despite the huge ramifications this proposal has on Hornsby Shire, neighbouring Shires and its unprecedented scope. We sought an extension of time to allow the community to respond but Council declined.



Bizarre In-Support Responses
Of the 580 invitations, Council received 123 responses.
55 were in-support; of these:
32 pro forma submissions included the statement "the south Dural precinct to finally have the support of Government and Council... to allow the lands to be developed". This suggests to any reasonable person that the whole process was a fait accompli.

14 of the 32 did not provide printed names and all their signatures were undecipherable.

17 responses were found to be well outside the area directly notified by Council. E.g. Marsfield, Killara, Bella Vista, Blacktown and Kenthurst
There were up to 4 multiple responses from the same households.
There were six cases where there were double entries.
14 were in conditional support.
54 against the proposal were Ignored By Council.
Even though there was no awareness of this proposal in the wider community, 54 objections were submitted to Council.
The arguments in opposition to the proposal were similar to the reasons for previous Council refusals. The current Council ignored these reasons.
Council Also Ignored Their Own and NSW State Plans
Council took no notice of
Their own Local Environment Plan
Metropolitan Plan for Sydney 2036
Draft North-Subregion Strategy
Metropolitan Strategy for Sydney to 2031
Council Unanimously Supports The South Dural Rezoning Proposal With No Debate
A few days before Christmas in 2013 the proposal to rezone south Dural for urban purposes, was approved by Council to proceed to the next step asking the NSW Department of Planning to grant a "gateway" determination.
Council's resolution was :
To seek from Department of Planning a "gateway" determination which



Required the proponent to fund a Business Plan, to be commissioned by Council, to confirm the feasibility of the project being delivered with all necessary infrastructure at no net cost to government and
Subject to the Regional Director of Sydney West Region being satisfied with the Business Plan, outlines the necessary studies to be prepared to justify the proposal.



Should a Gateway determination be issued, Council not proceed further with the Planning Proposal until such time as the proponent has entered into a binding agreement to fund both the studies and Council's resources for project management, and a bank guarantee has been received by Council for same.
Major Concerns
Why did Council not alert the broader community to this extremely significant and major impact-rezoning proposal?
Why was the proposal accepted unanimously in December 2013 without debating the objections raised by the community at the meeting, and why was there no statement from Council at the meeting as to why they supported the proposal?
On what basis or with what mandate did Council decide to support the rezoning proposal in their application for urban subdivision?
Why is Council so supportive of the south Dural rezoning proposal?
Revealing Parliamentary Speech
Perhaps the speeches made by the Hon Greg Donnelly MP in the NSW Parliament regarding property developer influence in Council decision-making might provide a clue.
On Friday 10th August 2012 the Liberal Party held a fund raising function in south Dural raising $87,436 for the forthcoming 2012 Council election.
"It is no secret that various property developers attended this event. It is also no secret that while not present themselves, some other property developers arranged for people to attend the fund raising event on their behalf."

"Mr Steve Russell played a critical role in organising and conducting the fundraising event."
ref:
Donnelly's Property Developers and Political Fundraising Speech
ref:
Donnelly's Liberal Party Fundrasing Speech
ref: Statutory return for the 2012-3 reporting period under the Election Funding, Expenditure and Disclosures Act 1981
Council Fails To Comply With Its Resolution Of December 2013
The Council was to commission a Business Plan to confirm the feasibility of the project being delivered with all necessary infrastructure at no net cost to government. This business plan was to be funded by the proponent.

By early 2016 this had not been done.

The proponent presented a Business Plan dated April 2015 to the Department of Planning which was rejected. Council had failed to comply with Section 2 of their resolution. Council continued with the Planning Proposal by meeting with the proponent on a regular basis contrary to Council's resolution, right up to 20th December 2015 when a funding agreement between Council and the proponent was finally transacted.



Proponent Does Not Accept Responsibility For The Full Cost Of Road Infrastructure Upgrade
Council's December 2013 resolution stated that all infrastructure including power, sewerage, water, roads etc are to be provided at no net cost to government. The proponent's interpretation of 'no net cost to government' especially in regards to new roads, differs to that of the NSW government. We believe the proponent is trying to reduce its financial obligation to pay for the road network upgrade.
Some property owners with links to the south Dural proposal and who are members of SDDRG and HRAA both of which support rezoning, have close links to the State MP Matt Kean.
Matt Kean State MP in his 2011 maiden speech made reference to them:
'Your support during the campaign was extraordinary and will not be forgotten'
These people are behind the petition seeking the widening of New Line Rd and at government expense.
ref: http://monthlychronicle.com.au/2015/09/16/the-truth-behind-the-petition/
ref: http://mattkean.com.au/news/speech/maiden-speech
Council Does Another About Face
From the start of this process Council had insisted that all studies associated with this rezoning proposal were to be commissioned by Council. In October 2015 Council officers, when meeting with the proponent, stressed the need for Council to commission the studies. Twelve days later, the proponent presented Council with a request seeking amongst other things to:
Transfer the responsibility for the preparation of the studies from Council to the proponent.
Allow the proponent to appoint a control group to replace the Council as the body looking after the community interest
Council acceded to the proponent's every request contrary to their December 2013 resolution. The studies ended up not being commissioned by Council independently.
ref: Statewide Letter to Council dated 28th October 2015 and Council Minutes 9th December 2015 Item 16
Why Did Council Do An About Face And Ignore Their Resolution?
Perhaps MP
Donnelly's
speech might again give a clue.
Traffic Impact From south Dural
It was estimated by RTA (now RMS) that every dwelling generates 9 traffic movements per day. For the south Dural proposal this represents an additional 26,100 traffic movements per day. This will be catastrophic for residents of this and surrounding areas. The notion of widening New Line Rd will not solve the current situation whether the proposal goes ahead or not. What the widening of New Line Rd will do, is exacerbate bottlenecks because Boundary and Castle Hill Roads are at capacity now.



Linked to South Dural : A New Rezoning Proposal at 268-278 New Line Road, Dural
This separate proposal directly opposite the south Dural proposal seeks to rezone the properties at 268-278 New Line Road for a very large supermarket. Click the map to enlarge.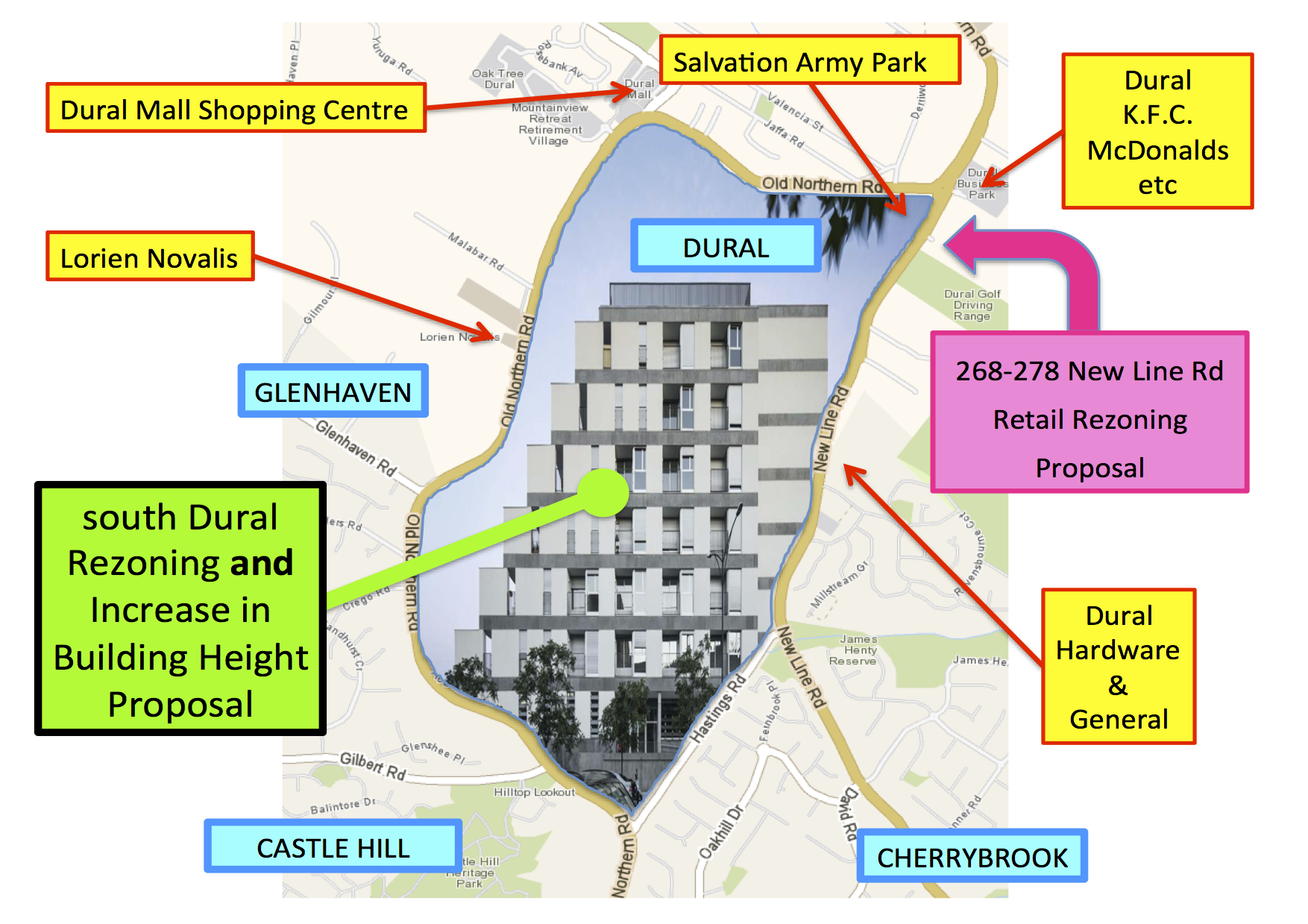 x
The proposal seeks to make a link with the south Dural site. Originally south Dural included a retail-shopping precinct. This is no longer the case.
Council commissioned the company GLN to undertake an independent review of the proposal. GLN recommended that the proposal not proceed. In 2016 Council unanimously ignored both GLN's recommendation and the public's objections and granted unanimous approval to progress the proposal for 'gateway' determination.
Council Has Met Its Housing Quota
Council has already met and exceeded the housing quota required by the NSW government by 3,792 dwellings. The NSW government's housing strategy requires that new housing developments be adjacent to major public transport hubs such as Hornsby Train Station to reduce congestion on the road network. ref: The Hornsby Advocate 25 August 2016 page 3 ref: Sydney Morning Herald 7 February 2017, page 11



The Council And The Proponent Are Members Of A Peak Lobby Group
February 2017: Council's Assessment Of The South Dural Subdivision Proposal Is Put On Hold
Residents' associations from across the Shire formed the Residents for Infrastructure and Planning Alliance (RIPA) to promote sensible planning sympathetic to the interests of the community. One of its objectives was to stop the Dural subdivision proposal.

In a well co-ordinated three year campaign the community at large was made aware of the adverse impact the proposal would have on all our communities. Over 6,000 objections to the proposal were lodged with Hornsby Council and last November over 600 people attended a public meeting hosted by The Greens Party which demonstrated overwhelming public opposition to the proposal based on environmental, endangered biodiversity, loss of agriculture, tourism, potential loss of jobs, inadequate infrastructure and the threat of urbanisation.

Two weeks after the close of the public exhibition period on 3rd December 2016, Council sought from the Road's Minister a commitment of State funds to upgrade the regional road network impacted by the Dural subdivision proposal. This request from Council contravenes their own December 2013 resolution where all infrastructure was to be provided by the proponent at 'no net cost to government'. The Minister's response indicated that the estimate of the road network upgrade was $300 million and not the $158 million figure given by the proponent, and that our region was not likely to be funded as it was not a designated priority urban growth area. Council had stated in their letter that the proponent is prepared to provide $27.7 million toward the road upgrade (as opposed to $300 million).

Consequently on 8th February 2017 Hornsby Council without any notice to the community resolved to discontinue its evaluation of the south Dural subdivision proposal until an agreed road infrastructure plan is prepared to service the south Dural precinct paid by the State government.



Council Misleads The Public And Trivialises Over 6,000 Community Objections
After the evaluation of the rezoning proposal was put on hold, Council flooded the media stating that the objections were only about road congestion. This is not correct. The objections also focused on
protecting rural and agricultural land
protecting wildlife and endangered and threatened animals
protection of endangered bush communities and their biodiversity
protection of wildlife corridors
safeguarding the rural amenity
protecting the Berowra Creek water quality
the adverse impact on rural tourism
the lack of water infrastructure and power
that the south Dural proposal contradicts Council, State and the Greater Sydney Commission's Plans to maintain rural zoning of Hornsby's rural lands
that there is no need for the additional housing in Hornsby Shire (Council has exceeded its quota by 3,792 dwellings)
that additional housing is required to be adjacent to major transport hubs to reduce road congestion
that most land owners in the precinct do not want the area subdivided
that there is no provision for schools,
that there are poor public transport options
that the proposal was not in the public interest.
Council Pressures State Government With A Number of Ploys
Council put the evaluation process on hold in order to pressure the State government to pay for the road upgrades needed to service the south Dural rezoning proposal. Council also wrote to neighbouring Councils to put pressure on the State government to do Hornsby Council's bidding.

Council commended the proposal as a wonderful development and at the same time criticised the public for being ill-informed. Council accused the community of scare mongering. We do agree that the facts from Council's and the proponent's documents are scary.

Council also incorrectly claimed the area was not being farmed when quite a number of properties are farmed.

Council also incorrectly claimed that opening the critically endangered bush (which is protected by both State and Commonwealth Law) to the public would protect it. Such an assertion is laughable.

One of many criticisms of the proposal is that there is no provision for schools. Council stressed that the area is well served by public high schools and then listed Barker College (Hornsby), Loretto (Normanhurst) and The Hills Grammar. Council did not mention one public primary or high school. Does Council believe that families who can afford expensive private school fees will want to live on 125 sq. metres attached blocks or in seven-storey apartment blocks?



Council Withholding Information From The Media
Council went on to make many other incorrect and misleading claims to the media and withheld important information such as
the south Dural rezoning proposal will increase traffic by 47% and that even if the roads were upgraded to service this proposal, the arterial roads will fail. This information is from the proponent's own traffic consultant
that there will be traffic disruption and inconvenience for up to 20 years while the development is being built
that Council will reduce the Shire's minimum residential lot by 75% from 500 sq. m. down to 125 sq. m
that there is substantial and important biodiversity due to the eco-tone of 3 ecological communities

the Sydney Turpentine Iron Bark Forest
the Blue Gum High Forest and
the Blackbutt Gully Forest

The first two communities are critically endangered with less than 1% remaining in Sydney and 90% of this occurs on private land
That there are at least 285 locally significant animals and more than 70 of them are threatened and need to be protected
That rural lands in Sydney contribute more than $1.5 Billion of agricultural value each year
That rural lands in Sydney grow 40% of NSW vegetable sales
That rural zoning protects the water catchment
That rural zoning offers food security as well as vital horticultural and agricultural knowledge and employment to the people of Sydney; our rural lands have close proximity to Sydney markets;
the rural lands are vital for growing food especially in light of the NSW government's priority strategically planned new urban growth areas which are located near major public transport hubs; the closest being the Cherrybrook-to-Rouse Hill corridor where there is an expected population growth of 100,000 the next 20 years.
that Council has an agenda to destroy the rural lands not only in Dural, but Galston, Glenorie and Arcadia for urban development.
South Dural Is Not Dead Yet
South Dural is not dead yet but is surely wounded.
We believe it is unethical for Council:
to intervene and put on hold an evaluation process in order to use its office to do whatever it can to assist the proponent and get the south Dural rezoning proposal through. Council has already spent hundreds of thousands of ratepayers' money.
contravene their December 2013 resolution and lobby the State government that you and I the taxpayer pay for the road infrastructure to service south Dural instead of the proponent. We as taxpayers should not pay for infrastructure that supports rezoning that we do not want and will forever destroy our rural area.
misrepresent and ignore over 6,000 objections.
Council Tries Another Tactic
On 8 March 2017 without debate or notice to the community, Council unanimously made recommendations to the Greater Sydney Commission to
urbanise the rural lands in the Shire
give more powers to Council to authorise mega-scale developments such as south Dural
Let the Greater Sydney Commission Know That We Support Their Recommendation to Protect Rural Lands
Please click
here
to send a submission to the Commission, which closes on 31 March 2017 COB.